Colby Davis Pendant: Medium Rose - Sterling Silver
SKU:

UPC:

Shipping:

Calculated at Checkout
The Colby Davis Rose pendant flower and thorn design come together to embody beauty, strength, and protection. Inspired by our close friend, Kate Rockett and her journey with her son's ups and downs. Allow our rose pendant to accompany you through all of the good times and bad.
Thoughtfully designed for, "the women whom I love and admire for their strength and grace did not get that way because shit worked out. They got that way because shit went wrong, and they handled it. They handled it in a thousand different ways on a thousand different days, but they handled it. Those women are my superheroes."
~ Elizabeth Gilbert
Medium Sterling Silver and Glass Enamel Colby Davis of Boston Rose Pendant
Diameter of 1"
Your choice of 16" or 18" chain (sold separately)
Your choice of colored enamel inlay (Shown in French Blue glass enamel)
Made in the USA
Colby Davis designs are 100% made in the United States with the highest quality craftsmanship.
To ensure your Colby Davis jewelry holds its shine for years, we recommend you use a clean polishing cloth or soft cotton cloth to gently wipe away any impurities or fingerprints. For any remaining tarnish, use a soft-bristle toothbrush to rub the jewelry with mild bar soap in warm water. Dry thoroughly with a clean cotton cloth and store the design in your Colby Davis pouch when not wearing to protect the fine finish.
Create your own Colby Davis story and layer up the collections that mean the most to you! We are here to help you curate the most unique, eye catching and meaningful layering ensemble that you can wear every single day.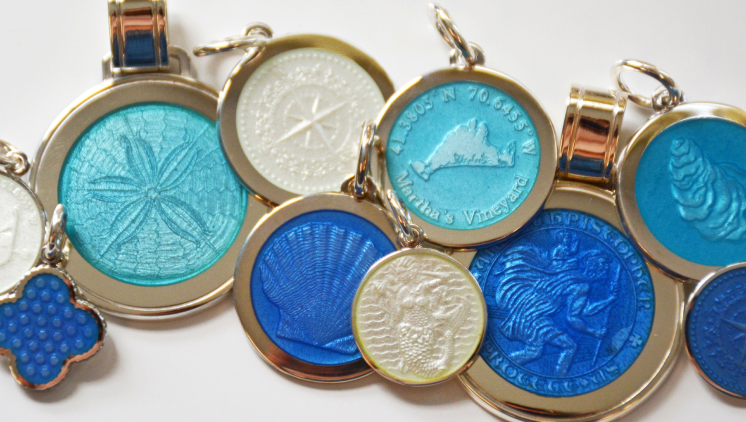 Step 1 Pick Your Pendants!
Start with a collection that means the most to you. Then pick which size you feel most comfortable wearing, we recommend our most-popular medium size! Finally, choose a glass enamel color that you love most.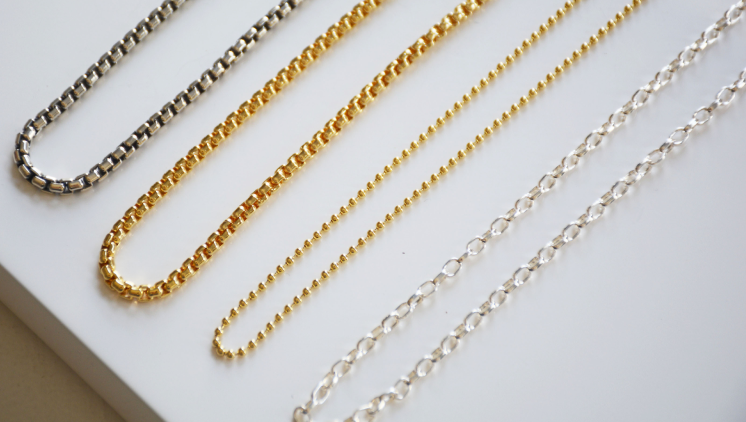 Step 2 Pick Your Chains
Start by assembling the lengths you're looking to wear, we recommend our 18" as a wonderful starting point for any layering look or necklace to be worn alone. If you're looking to personalize your own layering set, we recommend placing larger pendants on your longer chain selection and smaller pendants on your shorter, petite chain choice.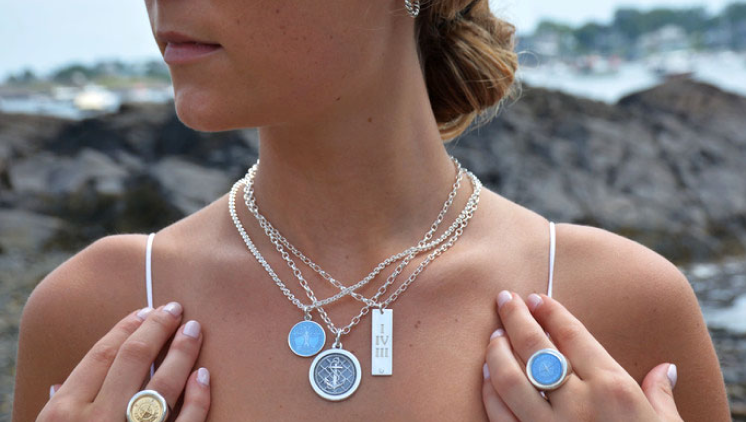 Step 3 Finally, layer it up!
Now that you have picked your pendant and chain, put all of your Colby Davis designs together and adjust if needed.