Colby Davis Pendant: Medium ALS - Sterling Silver
SKU:

UPC:

Gift wrapping:

Options available

Shipping:

Calculated at Checkout
Purchase an ALS Pendant and give back! When you purchase a Colby Davis ALS pendant the Colby Davis Girls are giving $60 of each sale to the foundation. This pendant embodies the immense strength and courage that each person, family or friend holds who is affected by ALS. Engraved on the reverse, "Time is the most precious commodity in the world," the designers wanted to show the world clock ticking away after a person is diagnosed with the disease.
When high schoolers Phoebe DeAngelo and Lillian Corcoran were thinking of what to do their final independent internship project on, the story of their friend's father came to mind. Being close with Kevin Gosnell and his family, they wanted to help ALS ONE in their mission to find a cure by 2020 and collaborate with the Colby Davis Girls to do so. After creating a website on etsy and making friendship bracelets to pay for the manufacturing costs of the pendant, they raised enough money in three short weeks. Today they hope that with each pendant sold, Kevin's mission will see fruition and help people worldwide fight this disease. Visit https://vimeo.com/212785710 for Kevin's story and read below for more information about ALS ONE.
ALS ONE is a non-profit 501c3 and is a partnership of the world's top ALS experts from leading Massachusetts institutions including ALS Therapy Development Institute, Massachusetts General Hospital, UMass Medical School, and Compassionate Care ALS. These venerable institutions are combining forces with the goal of finding a treatments or cure for ALS by 2020, while improving care now.
The approach of ALS ONE is to leverage the expertise from each of the research institutions through the share of ideas and responsibilities to advance each of the strongest therapeutic opportunities identified forward. Through the share of information, this partnership will help eliminate unnecessary duplication and expedite the path to find an ALS treatment. As the science and research efforts will take time and significant funding, ALS ONE is also working to improve care for persons living with ALS. For more information, visit www.ALSONE.org.
Medium Sterling Silver and Glass Enamel Colby Davis of Boston ALS Pendant
Diameter of 1"
Your choice of 16" or 18" chain (sold separately)
Your choice of colored enamel inlay (Shown in oxidized silver with small ball chain)
Made in the USA
Colby Davis designs are 100% made in the United States with the highest quality craftsmanship.
To ensure your Colby Davis jewelry holds its shine for years, we recommend you use a clean polishing cloth or soft cotton cloth to gently wipe away any impurities or fingerprints. For any remaining tarnish, use a soft-bristle toothbrush to rub the jewelry with mild bar soap in warm water. Dry thoroughly with a clean cotton cloth and store the design in your Colby Davis pouch when not wearing to protect the fine finish.
Create your own Colby Davis story and layer up the collections that mean the most to you! We are here to help you curate the most unique, eye catching and meaningful layering ensemble that you can wear every single day.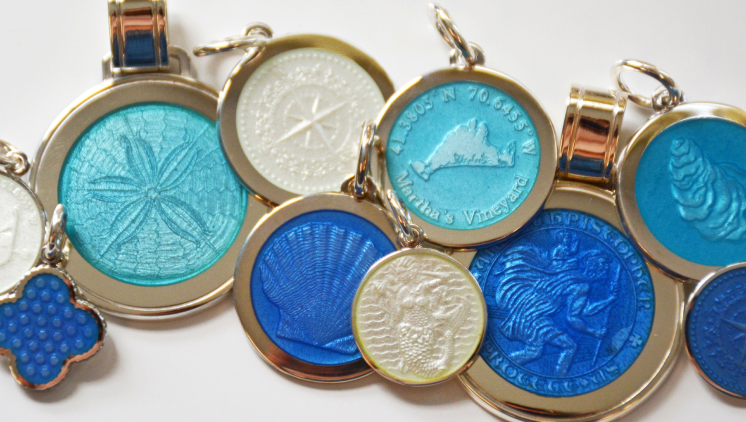 Step 1 Pick Your Pendants!
Start with a collection that means the most to you. Then pick which size you feel most comfortable wearing, we recommend our most-popular medium size! Finally, choose a glass enamel color that you love most.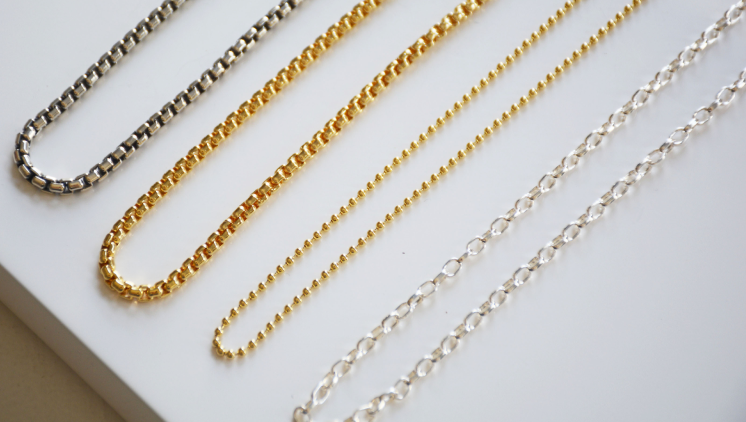 Step 2 Pick Your Chains
Start by assembling the lengths you're looking to wear, we recommend our 18" as a wonderful starting point for any layering look or necklace to be worn alone. If you're looking to personalize your own layering set, we recommend placing larger pendants on your longer chain selection and smaller pendants on your shorter, petite chain choice.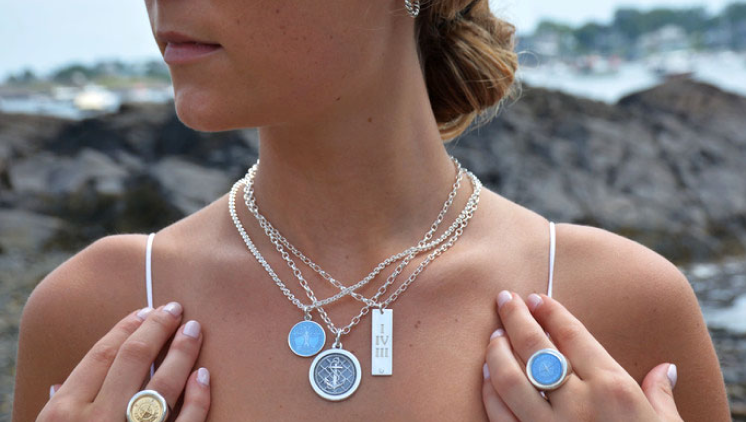 Step 3 Finally, layer it up!
Now that you have picked your pendant and chain, put all of your Colby Davis designs together and adjust if needed.
Product Reviews
4 Reviews